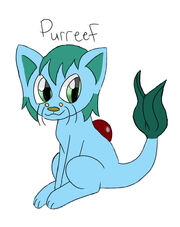 Purreef
is a
Water
Pokémon. Along with
Boaple
and
Burnunny
, it can be received as a Starter Pokémon in the Oloka Region.
Purreef evolves into Chantilily starting at Level 17, which then evolves into Leolantis starting at Level 38.
Pokédex OrderEdit
No. 006 - Scorvader / No. 007 - Purreef / No. 008 - Chantilily
Pokémon InformationEdit
---
Species Kitten Pokémon
Type Water
Ability Torrent
Gender Ratio 75% male; 25% female
Height 0.6 m
Weight 2.7 kg
Pokédex Entry The jewel on its back not only filters fresh water for attacks, but also contains gills so Purreef can breathe underwater.
---
PhysiologyEdit
Gender DifferencesEdit
No differences.
Special AbilitiesEdit
Base StatsEdit
---
TBA
Type EffectivenessEdit
---
OffensiveEdit
2x
Fire
Ground
Rock
1/2x
Dragon
Grass
Water
0x
Crystal
DefensiveEdit
1/2x
Fire
Ice
Steel
Water
2x
Electric
Grass
Crystal
0x
---
By Leveling UpEdit
By TutoringEdit
By BreedingEdit
---
Design Origin
Purreef is based on a house cat, specifically a Chantilly.
Name Origin
Purreef is a combination of purr, the sound a cat makes, and reef.