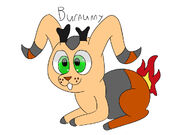 Burnunny
is a
Fire
Pokémon. Along with
Boaple
and
Purreef
, it can be received as a Starter Pokémon in the Oloka Region.
Burnunny evolves into Wildhare starting at Level 16, which then evolves into Scorvader starting at Level 35.
Pokédex OrderEdit
No. 003 - Scyllow / No. 004 - Burnunny / No. 005 - Wildhare
Pokémon InformationEdit
---
Species Rabbit Pokémon
Type Fire
Ability Blaze
Gender Ratio 75% male; 25% female
Height 1.0 m
Weight 20.0 kg
Pokédex Entry Burnunny digs underground to feed on coals. Because it's constantly eating coal, its tail flame never goes out.
---
PhysiologyEdit
Gender DifferencesEdit
No differences.
Special AbilitiesEdit
Base StatsEdit
---
TBA
Type EffectivenessEdit
---
OffensiveEdit
2x
Bug
Grass
Ice
Steel
Crystal
1/2x
Dragon
Fire
Rock
Water
0x
DefensiveEdit
1/2x
Bug
Fire
Grass
Ice
Steel
Fairy
Crystal
2x
Ground
Rock
Water
0x
---
By Leveling UpEdit
By TutoringEdit
By BreedingEdit
---
Design Origin
Burnunny is based on a mythical Jackalope.
Name Origin
Burnunny is a combination of bunny and burn.
Ad blocker interference detected!
Wikia is a free-to-use site that makes money from advertising. We have a modified experience for viewers using ad blockers

Wikia is not accessible if you've made further modifications. Remove the custom ad blocker rule(s) and the page will load as expected.