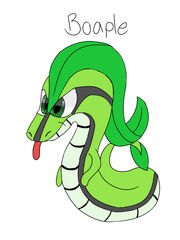 Boaple
is a
Grass
Pokémon. Along with
Burnunny
and
Purreef
, it can be received as a Starter Pokémon in the Oloka Region.
Boaple evolves into Constrolly starting at Level 18, which then evolves into Scyllow starting at Level 36.
Pokédex OrderEdit
No. 000 - ??? / No. 001 - Boaple / No. 002 - Constrolly
Pokémon InformationEdit
---
Species Grass Snake Pokémon
Type Grass
Ability Overgrow
Gender Ratio 75% male; 25% female
Height 0.5 m
Weight 13.6 kg
Pokédex Entry This Pokémon is born without knowing how to control its small arms. The large blade of grass on its head acts as camouflage in tall grasses.
---
PhysiologyEdit
Gender DifferencesEdit
No differences.
Special AbilitiesEdit
Base StatsEdit
---
TBA
Type EffectivenessEdit
---
OffensiveEdit
2x
Ground
Rock
Water
1/2x
Bug
Dragon
Fire
Flying
Grass
Poison
Steel
0x
DefensiveEdit
1/2x
Electric
Grass
Ground
Water
2x
Bug
Fire
Flying
Ice
Poison
0x
---
By Leveling UpEdit
By TutoringEdit
By BreedingEdit
---
Design Origin
Boaple is based on a boa constrictor hatchling.
Name Origin
Boaple is a combination of boa and maple, a type of tree.
Ad blocker interference detected!
Wikia is a free-to-use site that makes money from advertising. We have a modified experience for viewers using ad blockers

Wikia is not accessible if you've made further modifications. Remove the custom ad blocker rule(s) and the page will load as expected.